MIKE STEINER l 23.06. - 29.10.2023
KAESEBERG PREVIEW l 02.09. & 21.09.2023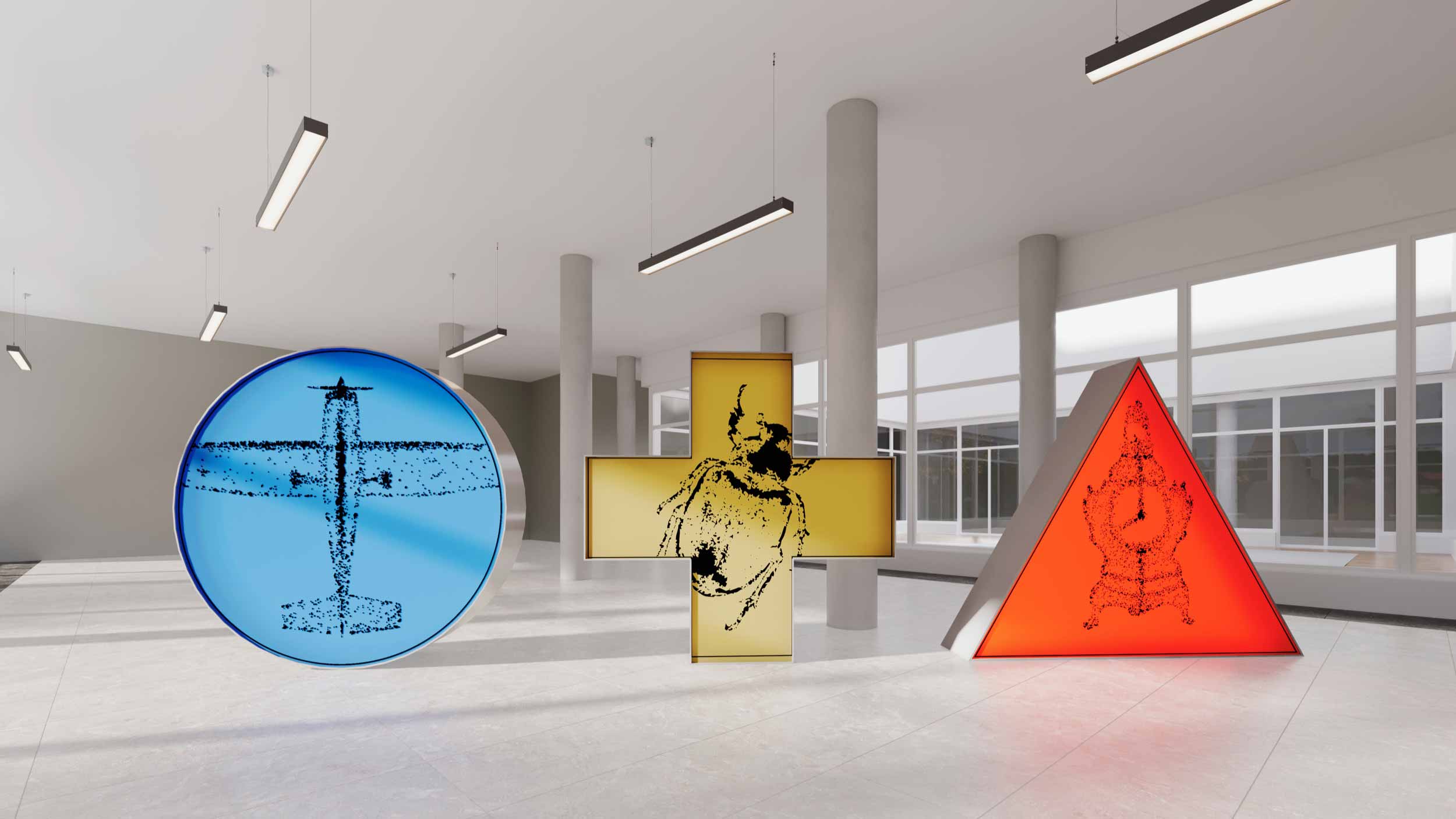 KAESEBERG transformation.futur | Aluminium, Print auf Acrylglas, LED, Installation 3teilig, gesamt ca. 200 x 800 x 50 cm., 2019-2023
KAESEBERG's installation sees itself as a current artistic intervention in the originally restored entrance hall of the former guest house of the GDR Council of Ministers and at the same time enters into a dialogue with the restored wall relief by the Leipzig artist Bernhard Heisig, which is also located in the foyer.
Art on the building:
transformation.futur I Commissioned work for the Leipzig LEWO group of companies I 2019 -2023
Mike Steiner was a pioneer of video art who championed a new aesthetic of seeing. He believed that the noisy, sensational reproduction of television should be countered with a pause for meaning, a moment of reflection, contemplation, and concentration.
In 1976, Steiner opened his Studio Gallery in Berlin, which became a meeting place for the international avant-garde of video art, performance art, and Fluxus. In his gallery, as in his Hotel Steiner, he exhibited artists of the Fluxus movement, including Allan Kaprow, Jochen Gerz, Joseph Beuys, Wolf Vostell, Ben Vautier, Al Hansen, and Emmett Williams.
With his productions, Steiner also helped to bring Ulrike Rosenbach, Marina Abramović, and Laurie Anderson to worldwide attention.
As a producer and cameraman of some of the most important works of video art, such as "Freeing the Body" (1976) with Marina Abramović and "Irritation – There is a Criminal Touch to Art" (1976) with Ulay, Mike Steiner is counted among the most important protagonists of the 1970s and 1980s.
In the 1990s, the video pioneer transferred this new aesthetic of seeing into painting – the birth of Tape to Paint painting. With color as his most important medium, he created fascinating images with the guiding principle: "From abstract principles, coding intimacy" (Mike Steiner).
Mike Steiner's work continues to inspire artists and viewers around the world. He was a true visionary who helped to shape the course of contemporary art. His legacy is one of innovation, creativity, and passion.